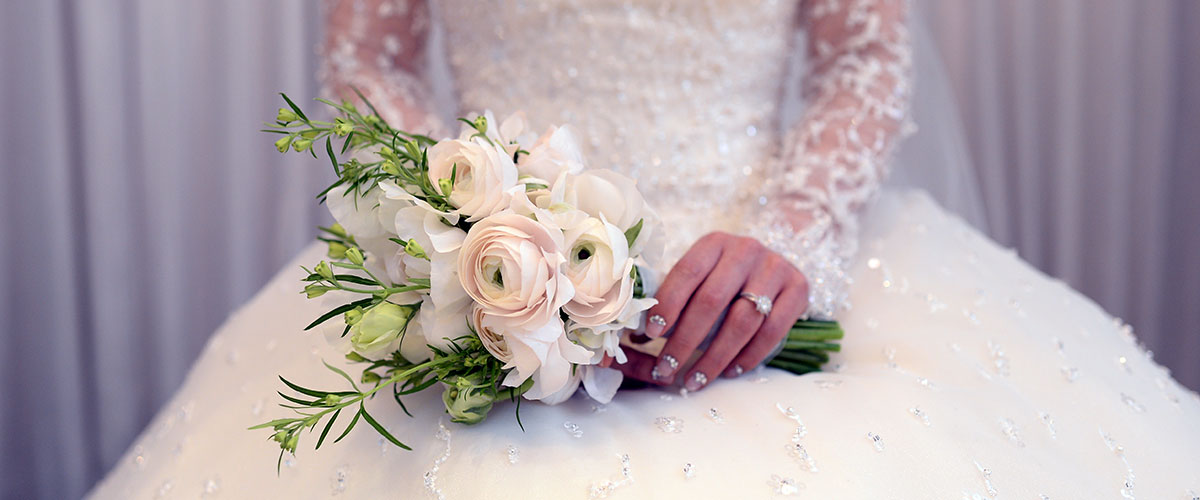 The Majestic Wedding
Dual Entree or Split-Menu
$ Below Includes Liquor Package
$66.00 – $73.00
(Price Pending Entree Selections Below)
(Vegetarian Entrees Available with this Wedding Package)
The Majestic Wedding Includes:
Shrimp Cocktail Displayed with Hors D'Oeuvres (6 pieces per person)
Viennese table later in the evening
Choice of Ice Sculpture: Vase, Swan or Entwined Hearts.
Complimentary Hotel room at the Staybridge Suites for the Bride and Groom
Champagne Toast for all your guests
Bottled Wine throughout dinner
4 Hot & 5 Cold Hors D' Oeuvres (view Hors  D' Oeuvres menu.)
International Coffee and Herbal Tea Station with Two Assorted Sweet Trays.
Dual Entree or Split-Menu
(Add $1.50 – $2.00 per person to substitute listed inclusive combination chickens to Oscar, Samuel or Cordon Bleu)
Selections:
Carved Filet Mignon & Chicken Picatta, Supreme, or Tuscan ($72.00)
Filet Mignon & Chicken Picatta, Supreme, or Tuscan ($72.50)
Whole Roasted Prime Rib ($70.00)
Carved Filet Mignon ($72.00)
Filet Mignon ($73.00)
Chicken Picatta ($66.00)
French Tuscan ($67.00)
Chicken Samuel (SGM Signature Meal) ($68.00)
Chicken Cordon Bleu ($68.00)
Chicken Oscar ($68.50)
Entree Selections Include:
Samuel Salad: Crisp Hearts of Romaine, Purple Cabbage, Mandarin Oranges, Shaved Asiago, Croutons, and our Signature Samuel's Dressing.
Choice of Starch: Herb Roasted Red Bliss, Traditional Baked w/Sour Cream & Butter, Jasmine Rice w/Vegetable Confetti, Or Chef Chamber's Choice
Vegetable: Seasonal Garden Medley
Lemon Sorbet Intermezzo Course
Choice of Dessert: Baked Alaska Flambe, Bananas Foster Flambe, Or Vanilla Ice Cream w/Chocolate Sauce
N.Y Style Cheesecake (Add $3.00 per person)
Dual Entree or Split-Menu
(Add $1.50 – $2.00 per person to substitute listed inclusive combination chickens to Oscar, Samuel or Cordon Bleu)
Selections:
Carved Filet Mignon & Chicken Picatta, Supreme, or Tuscan ($72.00)
Filet Mignon & Chicken Picatta, Supreme, or Tuscan ($72.50)
Whole Roasted Prime Rib ($70.00)
Carved Filet Mignon ($72.00)
Filet Mignon ($73.00)
Chicken Picatta ($66.00)
French Tuscan ($67.00)
Chicken Samuel (SGM Signature Meal) ($68.00)
Chicken Cordon Bleu ($68.00)
Chicken Oscar ($68.50)
Accent Chair Covers
Adding the finishing touch to your event
Providing chair covers for any special event–Weddings, Showers, Anniversary Parties & Bat Mitzvahs
Available in White, Ivory, Black & Eggplant with many colors of Satin Sashes or Spandex Bands to coordinate your color scheme
We Also Offer: Table Runners, Napkins, Acrylic Charger Plates, Mirror Squares, Card Box, Table Numbers & Silver Cake Plate
Contact Amy @716-633-7828 / E-Mail:ab28r@hotmail.com
Samuel's Sound
Providing Sound Service & Up-Lighting to further enhance your already Grande Setting
Contact Debbie @716-681-7957 / E-Mail: info@adventsystems.net