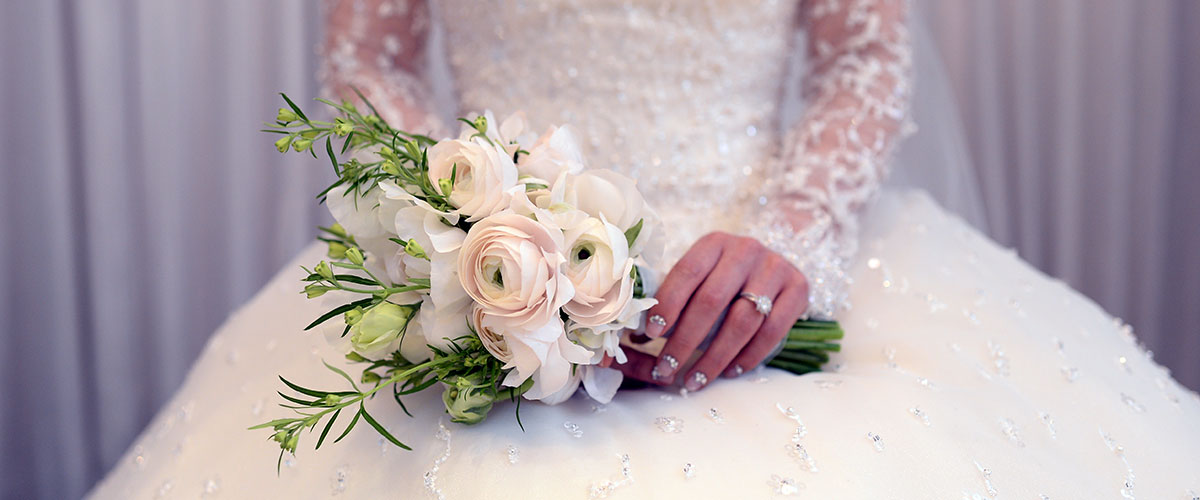 The Majestic Wedding Package
$125.00 Dual Entree or Split-Menu $ Includes 5 Hour Premium Liquor
With the Split menu, you will have a choice of two entrées on the response card that your guests can choose from.
With the Dual Entrée  Guests are NOT given a choice. The Hosts will pre-select two plated meats.
We will plan your celebration keeping in mind that your day is about you and ONLY you! Our entire venue is offered as the ONLY event of the day , not to be shared with any other.
(Deduct $10.00 per Person Friday & Sunday)
(Reduced $ Available For Dual Entrées Only)
(Vegetarian Entrees Available w/this Wedding Package)
"Wedding 1.0" 
(Available May 1st - Nov 31st)
Starting May 2023 you are officially the ONLY Wedding @ Samuel's
Cocktails & Hors D' Oeuvre Hour set-up outside under the East garden tent featuring our new "Fountain Bar"
Celebration to follow inside the Center Ballroom
Dual Entree or Split-Menu
Selections:
Dual Entrée Selections
Carved Filet Mignon Or Filet Mignon
 W/ Any Chicken Below ($125.00)
Supreme, Piccata, Tuscan
Samuel, Oscar, Cordon Bleu
Split Menu Selections
 Prime Rib ($126.00)
Carved Filet Mignon ($127.00)
Filet Mignon - Choice ($128.00)
Bone-In Filet Mignon ($129.00)
Chicken Picatta ($115.00)
Chicken Supreme ($115.00)
Chicken Samuel ($117.00)
Chicken Cordon Bleu ($117.00)
Chicken Oscar ($117.00)
Entree Selections Include:
Choice of
Salad
:
 Samuel Salad
 Josephine Salad
Kathleen Salad
Choice
of Starch:
Herb Roasted Red Bliss Potatoes
Traditional Baked Potatoe w/Butter & Sour Cream
Jasmine Rice w/Vegetable Confetti
Smashed Potatoes
Vegetable:
Seasonal Garden Medley
Lemon Sorbet Intermezzo Course
Choice of Dessert:
Baked Alaska Flambé
Bananas Foster Flambé
Vanilla Ice Cream w/Chocolate Sauce
The Majestic Wedding Package  Includes:
(Bold Items Indicate Amenities that are Not Included w/Samuel, Josephine  & Grande Buffet Wedding Packages)
Hors D' Oeuvres Package 2
(Choose 5 Cold & 4 Hot)
Down-Lighting to personalize your color scheme
Champagne Toast for all your guests
Bottled Wine throughout Dinner
International Coffee and Herbal Tea Station later in the evening w/Assorted  Pastries & Mini Cheese Cake Bites.
Double 8-Point Table Cloths: White or Black
Additional Half Hour Open Bar
Bistro Tables on Patio & Dance Floor for Cocktail Hour
Choice of White, Black, Ivory or Plum Chair Covers from Accent Chairs
Or Silver Chaivari Chairs w/ Black Seat Covers
5 Hour All Premium Liquor Package 3
(Extra 1/2 Hour Open Bar)
Shrimp Cocktail Displayed with Cold Hors D' Oeuvres Display
Choice of Ice Sculpture: Vase, Swan, Entwined Hearts, or Wedding Bells
Complimentary Hotel room at the Staybridge Suites for the Bride & Groom
Choice of Late Night Station:
Viennese Table
Sliders & Fries Station
Chicken Wing Buffet
Fingers & Fries Station
Accent Chair Covers
Adding the finishing touch to your event
Providing chair covers for any special event--Weddings, Showers, Anniversary Parties & Bat Mitzvahs
Available in White, Ivory, Black, or Plum with many colors of Satin Sashes or Spandex Bands to coordinate your color scheme
We Also Offer: Table Runners, Napkins, Acrylic Charger Plates, Mirror Squares, Card Box, Table Numbers & Silver Cake Plate
Contact Amy @716-633-7828 / E-Mail:ab28r@hotmail.com