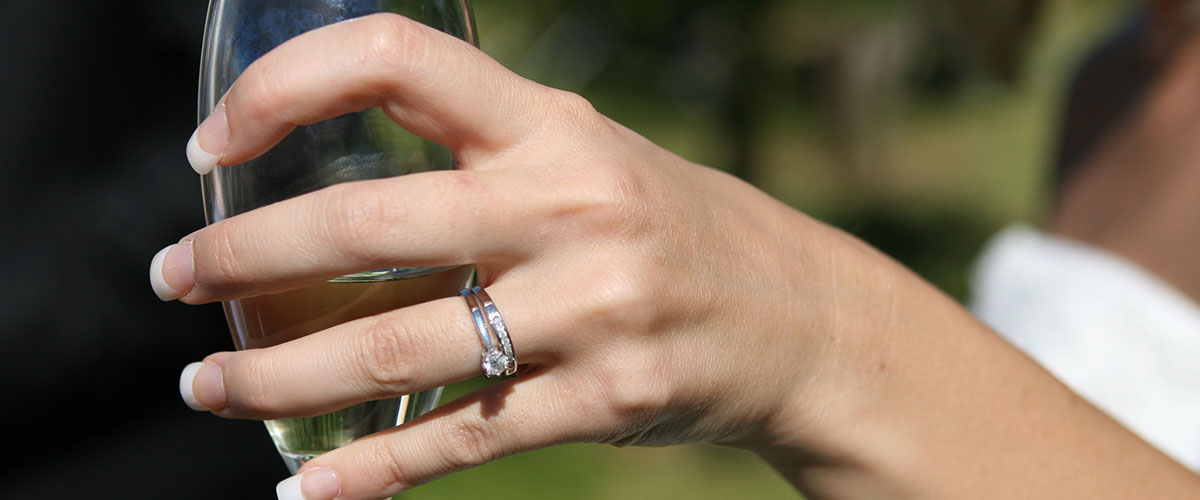 The Josephine Wedding
Split-Menu

$ Below Includes 4 1/2 Hour Premium Bar
The Josephine Wedding Package consisting of a delicious array of items, ranging from our signature prime rib, filet mignon and chicken dishes to superbly crafted fish & seafood entrées.
We will plan your celebration keeping in mind that your day is about you and ONLY you! Our entire venue is offered as the ONLY event of the day, not to be shared with any other.
"Wedding 1.0″ 
Starting May 2023 You are now officially the ONLY Wedding @ Samuel's Grande Manor
We No Longer Book Multiple Weddings
Cocktails & Hors D' Oeuvres set-up under the West Garden Tent featuring our new "Fountain Bar"
OR Inside a Separate Ballroom for Cold Weather Months
A Separate Room Reserved for Ceremony Inside in the Event of Rain
Celebration to follow inside the Center Ballroom
The Josephine  package is a split menu package. Choose two entrées to create your split menu. Your guests may pre-select their choice.
Invitations must be Color Coded Per Entrée Selection. (Red = Beef ,Yellow = Chicken, Green = Vegetarian)
(Deduct $10.00 per person on Fridays & Sundays)
The Josephine Wedding Includes:
4 1/2 Hour Open Bar w/All Premium Liquor Package 3
(Click for Beverage Services)
Champagne Toast for all your guests
Bottled Wine throughout dinner
Down-Lighting 
Hors D' Oeuvre Package 2 (Displayed)
Choose: 4 Hot & 5 Cold Hors D'oeuvres 
(Click for Hors D'oeuvres)
International Coffee & Herbal Tea Station Later in the Evening w/Assorted Pastries & Mini Cheese Cake Bites
Samuel Salad: Crisp Hearts of Romaine, Purple Cabbage, Croutons, Mandarin Oranges & Shaved Parmesan w/our Signature Samuel's Dressing.
Josephine Salad: Crisp Romaine & Mesclun Field Greens dressed in a Concord Grape Balsamic Vinaigrette w/Red Cabbage, Craisins & Crumbled Bleu Cheese.
Kathleen Salad: Crisp Chopped Romaine w/Cherry Tomatoes, Cucumber, Red Pickled Onion & Garlic Croutons w/a Raspberry Vinaigrette Dressing.
Beef
Bone-In Filet Mignon
$119.00
Angus Prime Bone-In Filet Mignon Seared w/whole butter.
---
Filet Mignon
$118.00
USDA Choice Filet Mignon seared & smothered in butter.
---
Carved Filet Mignon
$117.00
Charcoal Grilled Whole Tenderloin, Sliced at the Last Second to Ensure Ultimate Flavor & Tenderness w/Bordelaise Sauce.
---
Roasted Prime Rib (SGM Signature Entree)
---
$116.00
Slow Roasted Prime Rib w/Rosemary Au jus and a side of Horseradish Sauce.
Grilled Ribeye
$116.00
Grilled Prime Rib blackened & smothered w/a rich butter pallet.
---
Chicken
Chicken Breast Supreme
$106.00
An Egg Dredged Battered Chicken Breast Topped off w/A White Wine Supreme Sauce.
---
Chicken Picatta
$106.00
A Boneless Breast of Chicken Prepared w/ Capers in a Lemon Butter Sauce.
---
Autumn Chicken
$106.00
A Boneless Chicken Breast w/Apple Sausage Bread Stuffing & Herb Ponjus.
---
Chicken Samuel (Sgm Signature Meal)
$108.00
A Boneless Breast of Chicken filled with Cheese, Basil, Prosciutto Ham, Herbs & Wrapped in a Puff Pastry then Baked Until Golden Brown.
---
Chicken Cordon Bleu
$108.00
A Boneless Chicken Breast Stuffed with Ham & Swiss Cheese & Finished off with a White Wine Sauce.
---
Chicken Oscar
$108.00
A Boneless Chicken Breast Topped with Asparagus, Crab Meat & Bearnaise Sauce.
Seafood
Stuffed Shrimp
$112.00
Large Shrimp Stuffed with Spinach,Onions, Roasted Garlic and Parmesan Cheese.
---
Roasted Salmon
$112.00
Encrusted w/Macadamia Nuts and finished with a Citrus Lime Sauce.
---
Stuffed Salmon
Market $
Bay of Fundy Stuffed Salmon Stuffed with Main Lobster and Panko topped with a Holandaise Sauce.
---
Stuffed Sole
$109.00
Baked Sole Filets filled with Shrimp and Crab; topped off with a Bearnaise Sauce.
Vegetarian
Roasted Red Pepper Rissoto
$100.00
Topped with Seasonal Roasted Vegetables.
---
Stuffed Pepper
$100.00
Stuffed Red Peppers with Grilled Seasonal Vegetables and Rice Pilaf.
Includes

Costanza's Bread & Butter
Coffee & Tea
Choice Of Starch
Herb Roasted Red Bliss Potatoes
Traditional Baked w/Sour Cream & Butter Potatoe
Jasmine Rice w/Vegetable Confetti
Smashed Potatoes
Grande Finale
Choice of Dessert: Baked Alaska Flambé, Bananas Foster Flambé, Vanilla Ice Cream w/Chocolate Sauce.
N.Y Style Cheesecake (Add $3.00 Per Person)
Accent Chair Covers
Adding the finishing touch to your event!
Providing Chair Covers for any special event –Weddings, Showers, Anniversary Parties & Bat Mitzvahs
Chair Covers Available in the Following Colors: White, Ivory, Black & Eggplant with many colors of Satin Sashes or Spandex Bands
We Also Offer Accesories: Table Runners, Napkins, Acrylic Charger Plates, Mirror Squares, Card Box, Table Numbers & Silver Cake Plate
Contact Amy @ 716-633-7828 / E-Mail: ab28r@hotmail.com