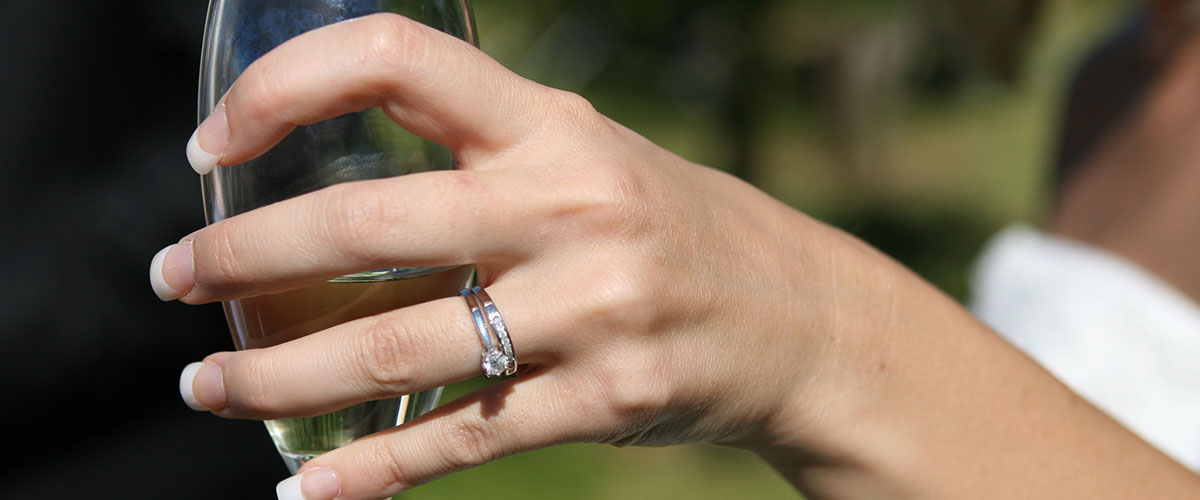 The Josephine Wedding
Split-Menu

$ Below Includes Premium Liquor

The Josephine package is a split menu package. Choose two entrées to create your split menu, and guests may pre-select their choice.
Invitations must be Color Coded Per Entree Selection. (Red = Beef ,Yellow = Chicken, Green = Vegetarian)
(No Discount On Seafood Selections Friday, Saturday & Sunday)
(Deduct $5.00 per person on Fridays & Sundays.)
The Josephine Wedding Includes:
4 1/2 Hour Open Bar w/All Premium Liquor Package 3 (Click for Beverage Services)
Champagne Toast for all your guests
Bottled Wine throughout dinner
Hors D' Oeuvre Package 2 (Displayed)
Choose: 4 Hot & 5 Cold Hors D'Oeuvres 
(Click for Hors D'oeuvres)
International Coffee & Herbal Tea Station Later in the Evening w/Assorted Pastries & Mini Cheesecake Bites
Down-Lighting (Normally $300.00)
Double 8-Point Table Cloths
Samuel Salad: Crisp Hearts of Romaine, Purple Cabbage, Croutons, Mandarin Oranges & Shaved Parmesan w/our Signature Samuel's Dressing.
Josephine Salad: Crisp Romaine & Mesclun Field Greens dressed in a Concord Grape Balsamic Vinaigrette w/Red Cabbage, Craisins & Crumbled Bleu Cheese.
Beef
Prime Rib (SGM Signature Entree)
$94.00
10 oz. Slowoasted Rib w/Rosemary Au Jus & a side of Horseradish Sauce.
---
Bone-In Filet Mignon
h
8 oz. USDA Bone-In(Most Flavorful Cut) Filet Mignon Seared & Smothered in Butter.
---
Filet Mignon
$92.00
8 oz. USDA Choice Filet Mignon Seared & Smothered in Butter.
---
Carved Filet Mignon
$91.00
8 oz. Charcoal Grilled Whole Tenderloin, Sliced at the Last Second to Ensure Ultimate Flavor & Tenderness.
Chicken
Chicken Breast Supreme
$75.00
An Egg Dredged Battered Chicken Breast Topped off w/A White Wine Supreme Sauce.
---
Chicken Picatta
$75.00
A Boneless Breast of Chicken Prepared w/ Capers in a Lemon Butter Sauce.
---
Autumn Chicken
$76.00
A Boneless Chicken Breast w/Apple Sausage Bread Stuffing & Herb Ponjus.
---
Chicken Samuel (Sgm Signature Meal)
$77.00
A Boneless Breast of Chicken filled with Cheese, Basil, Prosciutto Ham, Herbs & Wrapped in a Puff Pastry then Baked Until Golden Brown.
---
Chicken Cordon Bleu
$77.00
A Boneless Chicken Breast Stuffed with Ham & Swiss Cheese & Finished off with a White Wine Sauce.
---
Chicken Oscar
$77.00
A Boneless Chicken Breast Topped with Asparagus, Crab Meat & Bearnaise Sauce.
Seafood
Stuffed Shrimp
$82.00
Large Shrimp Stuffed with Spinach,Onions, Roasted Garlic and Parmesan Cheese.
---
Roasted Salmon
$80.00
Encrusted w/Macadamia Nuts and finished with a Citrus Lime Sauce.
---
Stuffed Salmon
Market $
Bay of Fundy Stuffed Salmon Stuffed with Main Lobster and Panko topped with a Holandaise Sauce.
---
Stuffed Sole
$78.00
Baked Sole Filets filled with Shrimp and Crab; topped off with a Bearnaise Sauce.
Vegetarian
Roasted Red Pepper Rissoto
$70.00
Topped with Seasonal Roasted Vegetables.
---
Stuffed Pepper
$70.00
Stuffed Red Peppers with Grilled Seasonal Vegetables and Rice Pilaf.
Includes

Costanza's Bread & Butter
Coffee & Tea
Choice Of Starch
Herb Roasted Red Bliss
Traditional Baked w/Sour Cream & Butter
Jasmine Rice w/Vegetable Confetti
Smashed Potatoes
Grande Finale
Choice of Dessert: Baked Alaska Flambé, Bananas Foster Flambé, Vanilla Ice Cream w/Chocolate Sauce.
N.Y Style Cheesecake (Add $3.00 Per Person)
Accent Chair Covers
Adding the finishing touch to your event!
Providing Chair Covers for any special event –Weddings, Showers, Anniversary Parties & Bat Mitzvahs
Chair Covers Available in the Following Colors: White, Ivory, Black & Eggplant with many colors of Satin Sashes or Spandex Bands
We Also Offer Accesories: Table Runners, Napkins, Acrylic Charger Plates, Mirror Squares, Card Box, Table Numbers & Silver Cake Plate
Contact Amy @ 716-633-7828 / E-Mail: ab28r@hotmail.com
Samuel's Sound
Providing Sound Service & More!
Contact Debbie @ 716-681-7957 / E-Mail: info@adventsystems.net