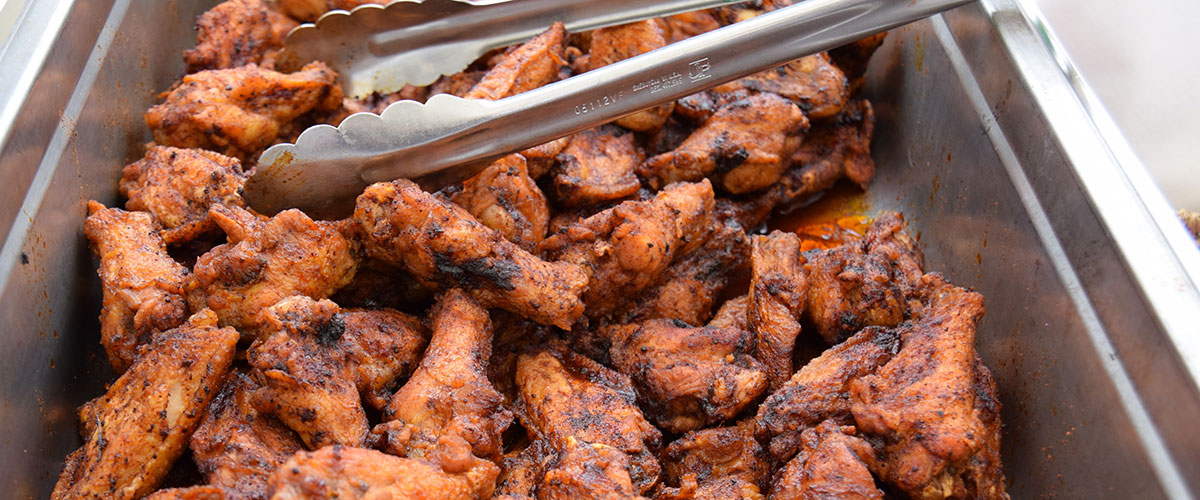 Ala Carte Luncheon Buffet
For your next luncheon, Samuel's offers a standard luncheon buffet complete with a served salad course and dessert, or choose from our four specialty themed buffet options. Minimum of 75 people.
Samuel's Luncheon Buffet
Josephine Salad (Served)
Crisp Romaine & mesclun field greens, dressed in a balsamic vinaigrette & oil, topped with red cabbage, craisins, and crumbled bleu cheese
CHOICE OF ONE:
Carved Steamship of Beef
Carved Virginia Ham
Carved Turkey
Carved Filet Mignon (Add $7.00 PP)
INCLUDES:
Farfalle with pesto & red pepper salad
Baby red & gorgonzola potato salad
Whipped potatoes with caramelized onions
Fresh vegetable du jour
Baked chicken
Pasta with red sauce
Dessert
Vanilla ice cream with chocolate sauce
Sherbet
$20.50 per person.
Tenderloin tips with peppers and onions
Marinated grilled chicken breast with peppers and onions
Array of grilled vegetables with feta cheese and balsamic vinegar
Tomatoes, pepperocini, black olives, red onions
Feta cheese
Greek dressing
Pita bread
$21.50 per person
Carved roast beef on weck or soft rolls
Buffalo wings
Sausage, onions and peppers, with rolls
Salad bar (mixed greens with tomato, cucumber, shredded carrots, bowls of crumbled bleu cheese, cranberries, croutons, walnuts, and assorted dressings)
$22.50 per person
Sizzling strips of marinated chicken or flank steak, with tossed onions and peppers
Flour tortillas
Cumin scented rice
Black bean Mexicali
Tortilla chips with salsa, pico de gallo, and sour cream
Shredded cheese, lettuce, chopped tomatoes
Limes
$20.00 per person
Sliced angus beef, smoked ham, roasted turkey breast
Swiss, cheddar, and provolone cheese
Assorted deli breads and deli rolls
Lettuce, tomato, pickles, onions, pepper rings
Assorted mustards and mayonnaise
Vegetable tortellini salad or red jacket potato salad
Assorted bags of chips
Add a cup of soup: roasted corn chowder, chicken tortilla, potato leek, minestrone, butternut squash, chicken and rice. (+$2.00 per)